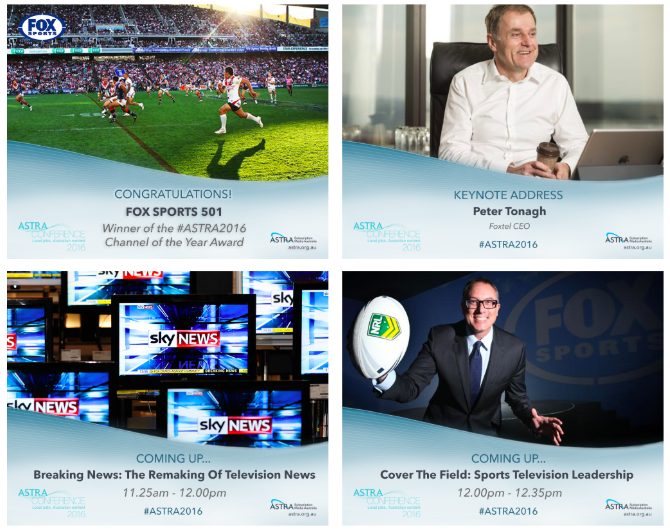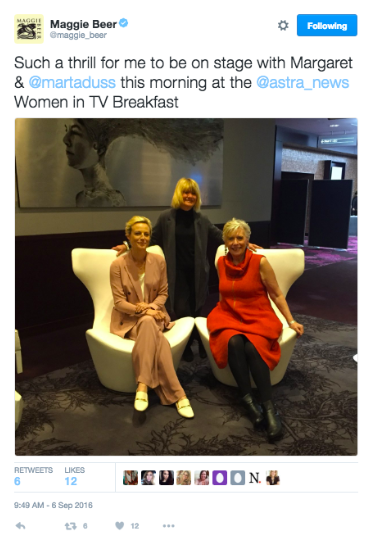 I was the social media lead with PR company eckfactor to create content and live tweet the 2016 ASTRA Conference and Women in Television Breakfast for the Australian Subscription Media.
Strategy
Social media activity for the 2016 ASTRA Conference was focused on the event day itself. With a set schedule and prepared speeches in hand from keynote speakers, I was able to create pre-prepared content that rolled-out on the day as well as lead a team of 4 people that live tweeted events and speeches as they happened.
In the lead up to the conference I:
Created a content calendar of tweets per the event schedule, special guests, keynote speakers, and panel topics.

Prepared all required images, videos, and links for inclusion.

Researched twitter handles and created a guide of all speakers and notable guests.
We also encouraged conference attendees to join the conversation on social media through the hashtag #ASTRA2016.
Results
The official event hashtag #ASTRA2016 trended nationally from 8.15am to 5.30pm, claiming the #1 slot during the Women in Television Breakfast at 8.25am and maintaining that position for 4 hours (until 12.30pm), and again during the Michael Mosley's keynote for an extra half an hour at 2pm. This is the longest ASTRA has ever trended at #1.
#ASTRA2016 also generated 970 tweets, reaching a total 1,401,041 accounts with 10,041,805 impressions. Australian Subscription Media's official handle @astra_news also reached 340,579 accounts (more than triple the amount as the previous year) and had impressions of over 1,359,000.
Top tweeters included Foxtel, Fox Sports, Patrick Delany, Margaret Pomeranz, Maggie Beer, AdNews, Mediaweek, Kristina Keneally, Darren Davidson, Dan Barrett and Amanda Meade.
I was invited back to create all content and lead the social team for the ASTRA 2017 Women in Television Breakfast, where the official event hashtag #ASTRAWITV once again trended nationally and #1 in Sydney.